Dental Implants – North Dallas, TX
Cutting-Edge Dentistry with Life-Changing Results
Dental implants in North Dallas offer a wide range of unique benefits that make them stand out from their traditional tooth replacement counterparts, making them a popular choice for patients looking to restore their smiles. Whether you're missing one, several, or all of your teeth, Dr. Patel can complete the entire treatment process from start to finish in the comfort of our office. Schedule a consultation today to learn if you're a good candidate for natural-looking and feeling replacement teeth.
Why Choose Prestige Dental for Dental Implants?
Start-to-Finish Dental Implant Treatment
All-on-4 Implant Dentures Available
We Accept & Maximize Health Insurance
What are Dental Implants?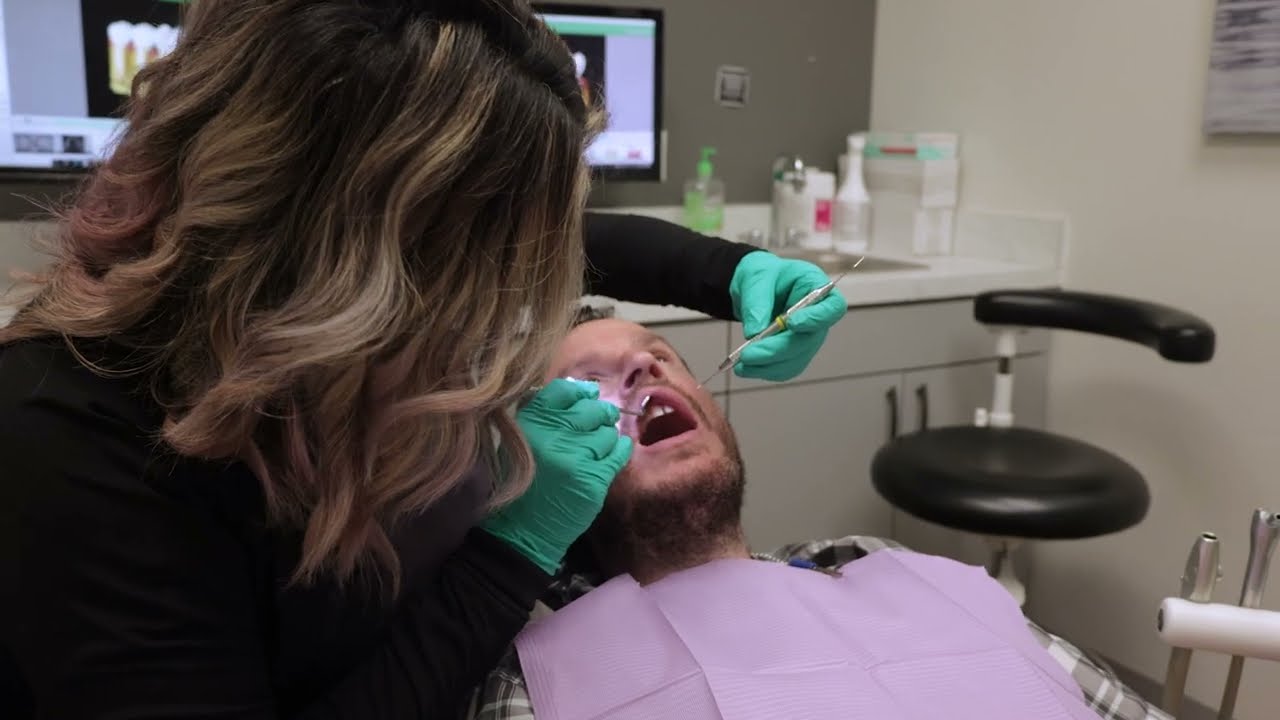 Dental implants are small titanium posts that are surgically placed below the gumline and into the jawbone to replace the roots of missing teeth. Due to their biocompatibility, they're able to naturally fuse with the bone through a process called osseointegration, allowing them to provide a strong and stable foundation for prosthetics to be attached to. Depending on how many teeth you need to have replaced, implants can be positioned within the mouth to support a crown, bridge, or denture.
The 4-Step Dental Implant Process
The Initial Consultation: The first step of every treatment that we do is a consultation. This visit allows Dr. Patel to customize every patient's journey to fit their unique needs. During this visit, our team will present you with a treatment plan as well as a cost estimate, allowing you to decide whether you'd like to move forward to the next steps.
Dental Implant Surgery: To place your dental implants, Dr. Patel will make a small incision in your gumline. Once the implants are secured in the jawbone, he will stitch the gums closed and allow them to heal.
Osseointegration & Abutment Attachment: Over the next three to six months after your surgery, your implants will undergo a process called osseointegration, where they fuse with the bone structure. Once your gums have healed, Dr. Patel will be able to attach abutments to your implants, which are small, metal connector pieces.
Securing the Dental Implant Restoration: Finally, we'll call you back in to secure your permanent prosthetic to your implants and restore your smile.
Benefits of Dental Implants
Dental implants in North Dallas are such a popular treatment choice among patients because they offer so many unique benefits that make them stand out from their traditional counterparts. When you choose this advanced service, you can prevent jawbone deterioration over time, preserve your facial structure, restore up to 80% of your bite power, and so much more.
Who Dental Implants Can Help
Dental implants can help patients who find themselves in a variety of different tooth loss situations. Whether you're missing a single, several, or all of your teeth, Dr. Patel can customize your treatment to address your unique needs and case. Based on his initial evaluation of your smile, he'll outline a treatment plan that can include any of the following routes:
Missing One Tooth
Replacing a single tooth is easy with dental implants. Our team will simply place one dental implant in the gap in your arch. Once it has fused with the bone and the gums have healed, we'll secure an abutment to the implant that will allow us to attach a customized, free-standing crown.
Missing Multiple Teeth
Instead of needing to alter your natural, healthy teeth to support a traditional dental bridge, our team can place two dental implants at either edge of the gap in your smile. These will allow us to secure the restoration to the implants instead of your existing teeth.
Missing All of Your Teeth
Dr. Patel is able to restore an entire arch of missing teeth with anywhere from four to six dental implants that will secure a denture in the mouth. Certain cases may also be great candidates for Teeth-in-a-Day, which is a process that allows our team to restore your smile in a single day!
Understanding the Cost of Dental Implants
Every dental implant treatment that our team does is customized to meet the patient's unique needs, which is why there's no singular price tag associated with the treatment. The cost of restoring your smile will depend on several factors that we will determine during your initial evaluation, including how many teeth you need to have replaced and whether you require any preparatory procedures. Then, once we've created your treatment plan, we'll be able to provide you with a detailed cost estimate that you can review before committing to move forward with the process.